March 7, 2016
Chesterbrook students turn faculty into sundaes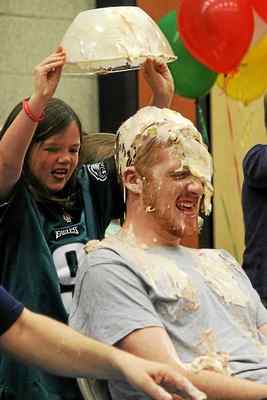 WEST GOSHEN >> In a celebration of National Reading Month, the Chesterbrook Academy Elementary School students set out to read for thousands of minutes during February.
For achieving an astounding 100,000 reading minutes, the students had the thrill of turning their principal and some teachers into human sundaes, complete with all the appropriate toppings.
"It was a little cold, but it was very yummy," said Principal Joe Rodia. "This is way harder (than the ice bucket challenge)."
Throughout the month, the pre-K through fifth-grade students were challenged to read a specific number of minutes to reach the 100,000-mark. If they hit it, the students would cover Rodia in ice cream.
When the month ended and the minutes were totaled, the Chesterbrook students read a total of 132,197 minutes, and because of the additional amount, six teachers were added to become human ice cream sundaes.
Read More on The Daily Local News