May 22, 2016
Construction starts this week to turn Armory building in West Chester into a theater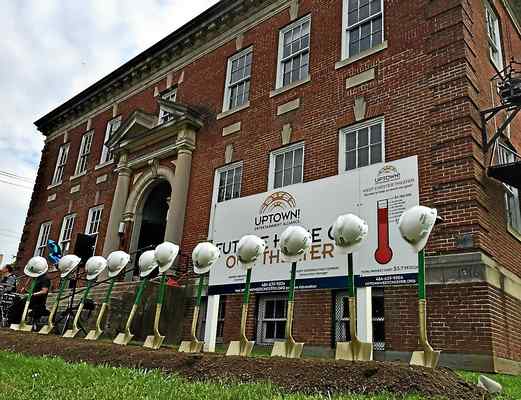 WEST CHESTER >> Uptown! Entertainment Alliance has been working to bring a theater to West Chester for over five years, but during that time, it has all been coming together either in drawings and writing.
Now, the reality is here as Uptown! (UEA) celebrated its groundbreaking Wednesday evening.
"Somebody has an idea, they talk with their friends, the idea becomes a solid dream and the dream becomes a reality," said West Chester Mayor Carolyn Comitta. "This is going to be a reality that's going to be fantastic for our children, for our families and for all of our community members right here in the borough, all across Chester County and the region. West Chester is a beacon for the arts and culture and for people to come together, celebrate life and all that's beautiful about it."
What started off as just a simple conversation between Tom McEvoy and Richard May has become that reality as UEA now takes that next step with construction starting this week on the inside of the old National Guard Armory building on High Street.
Read More on The Daily Local News